A compact and cost friendly solution
Gericke's range of pre-engineered packaged vacuum conveying solutions have been designed to assist in unloading and refilling processes, driven by a venturi ejector or an electric vacuum pump. Dense phase systems can also be realized using high performance vacuum conveying systems. Over short distances, a dense phase conveying mode can be applied.
Contact us!
You want to know more about our products and services?
Adaptable design
The modular design provides the opportunity to adapt the suction device to various different handling or process equipment. Sack tipping, drum unloading, BBU Big Bag Unloading, feeder refilling, reactor loading, to name some examples.
Pre-engineered vacuum conveyors are compact and light and are suitable for manual or automated operation.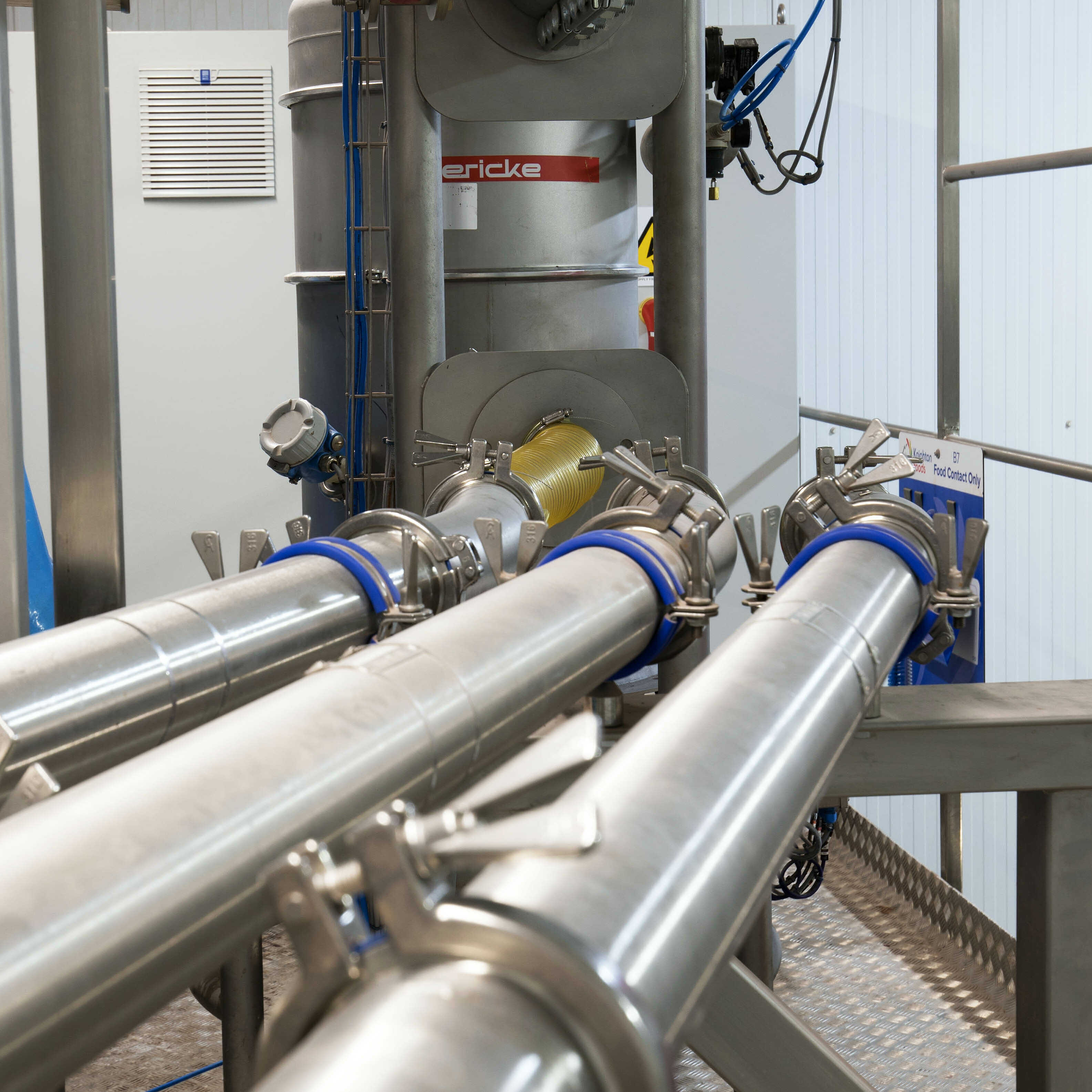 Your Benefits
Dust free conveying. Potential leaks are contained within the system.
Operated with a vacuum ejector, simply connect the system to the existing compressed air supply and run the system.
Suitable for use in explosive atmospheres.
Hygienic construction available.
Compact and lightweight receiving vessels.
Batch or continuous transfer modes.
Additionally, Gericke can design and engineer dedicated vacuum transfer solutions.

Vacuum conveying system in bakery application
Applications
Fine and coarse powders, granules and bulky materials, small component parts.
0.1 to 8 m3/h, conveying distances varying from a short elevation up to 40 m.
Additional equipment can be directly positioned in the conveying line (inline sifter, magnet separator, nibblers etc...).
Conveying of tablets and compacted particles.
Weighed vacuum receiver for mixer filling.
Feeder refilling, both volumetric and gravimetric.
Packing line supply.
Specifications
Unit available in type 304 and 316 stainless steel.
Special finishes for the food and pharmaceutical industries.
Special designs to handle products with "difficult" flow properties and abrasive characteristics.
ATEX execution available
Automatic filter cleaning during the discharge cycle
GERICKE Vacuum conveying solution
Principle of Operation
Most of Gericke's pre-engineered vacuum conveying systems work on a cyclic operation where the system conveys for a set time or to a level, conveying stops, the discharge valves opens and the filters are cleaned. This sequence is then repeated. Continuous transfer can be achieved by utilising a rotary valve at the outlet of the receiver.
The product is introduced at the pick up point into the conveying line by various equipment such as suction lance, feeding hoppers, feeding screws, rotary valves, extruders etc.
The necessary gas flow is generated by the vacuum generator located at the far end of the line, after the vacuum receiver and thus the material is sucked through the pipeline and into the vacuum receiver.
In the vacuum receiver the gas is then separated from the product by flowing through a filter which rejects the solids. During every discharge cycle the filter is automatically cleaned via a compressed air blast.